DRIP COFFEE MAKER 1.7L 5KCM1209BAC KITCHENAID ALMOND CREAM
Special Price
€135.00
was
€149.00
Enjoy the best flavour filter coffee
It's easier to enjoy delicious filter coffee at any time of day with our drip coffee maker.
29-hole spiral shower head
This sleek and convenient drip coffee maker uses a spiral showerhead to extract the best flavour from the coffee grounds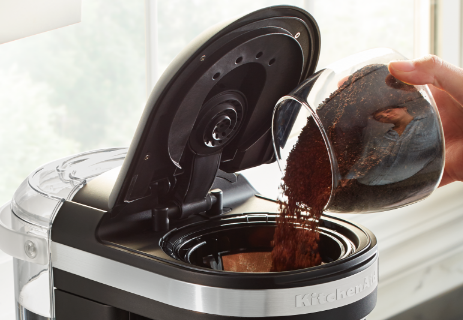 Ready for you 24/7
Choose your preferred brew strength and it will be ready, day or night, with an intuitive 24-hour program and the option to keep it warm for up to 40 minutes.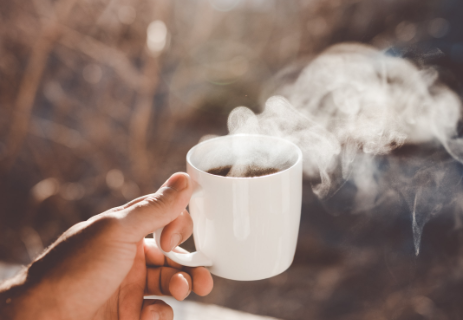 Perfects coffee craft
This stylish drip coffee machine takes all the hassle out of making coffee. It's designed to get the critical combination of water, coffee and brew timing just right, so you can just turn up and pour.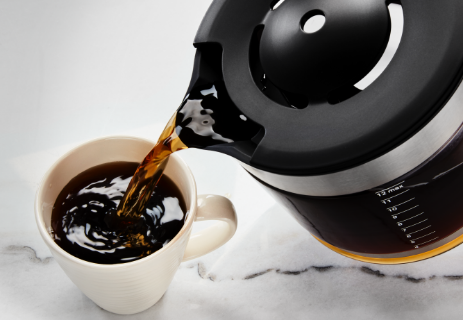 Pause and pour feature
Need a cup now? Go for it! Pause and pour means there's no waiting for your coffee to finish dripping through. You can pick up the glass carafe and pour a cup before brewing is complete.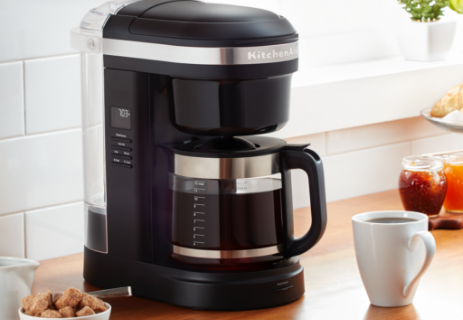 Handy warming plate
Keep the brewed coffee at a regulated temperature of your choice (high or low) for 10, 20, 30 or a maximum of 40 minutes. So if you're busy, that satisfying cup will still be waiting for you.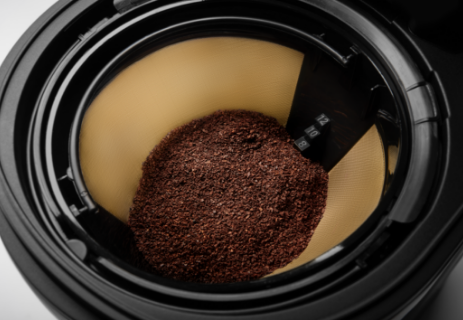 Gold-tone filter
Want first class taste? The reusable gold-tone permanent coffee filter is designed for optimum filtration and can be washed in the dishwasher.
Drip coffee maker 1.7L works like a barista
It's all about the flavour when it comes to coffee. To bring you exceptional flavour every time, the KitchenAid drip coffee maker 1.7L has a special 29-hole spiral shower head. This means that the coffee grounds are steadily and uniformly saturated, as if you were pouring by hand like a barista. You can choose your strength with the help of the variable brew strength selector. Just one button and you'll have a cup that suits your mood.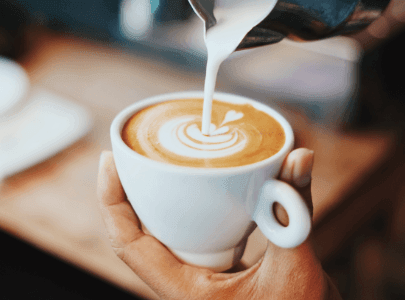 Take the guesswork out of making coffee
Tiny things make a big difference if you want a finely balanced cup of coffee. You need exactly the right coffee: water ratio so it's not too weak or strong. To help you out, we've put a handy dosage ladder on the reusable filter and a dosage chart on the removable water tank. That means consistent results and no more guessing.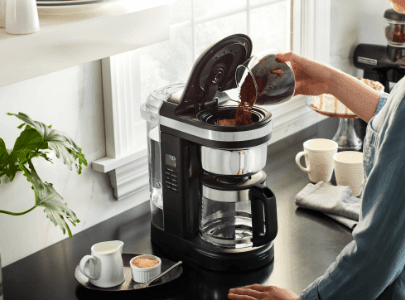 First class reusable filter
Coffee filters affect the quality of your drink. Paper filters tend to take out all the natural oils and can also make the drink taste a little flat. The reusable gold-tone permanent filter on our KitchenAid drip coffee maker is designed for optimum filtration. It removes the need for a cone paper coffee filter and can even be cleaned in the top rack of the dishwasher.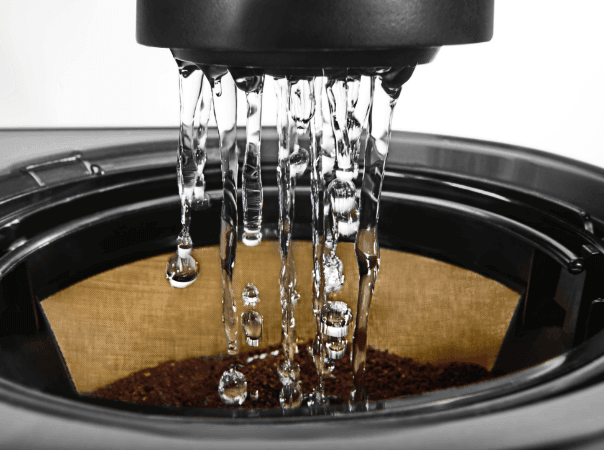 Drip coffee that's ready when you are
Do you get up at dawn or stay up like a night owl? Perhaps you always have a strong coffee mid-afternoon? You can be in control of the Drip coffee maker 1.7L with a simple LCD display. It's easy to use with no confusing menus to navigate and scroll through. Just set it for when you want your coffee to be ready. There's even the option to use two programs, so you can set one time for weekdays and another for those gloriously lazy days off.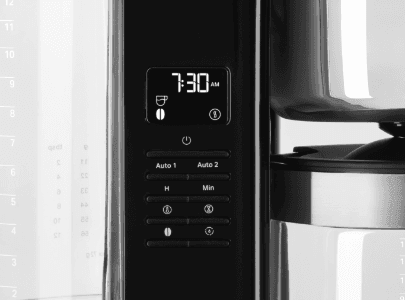 The drip coffee maker with good looks
Why not choose a coffee machine that looks stylish on your countertop? Our drip coffee maker has sleek good looks, with Onyx Black, Charcoal Grey, Empire Red or Almond Cream colour options and shiny chrome accents. The spout design of the 1.7L glass carafe prevents drips and messes for tidy and hassle-free pouring. It's a showpiece that stays looking smart.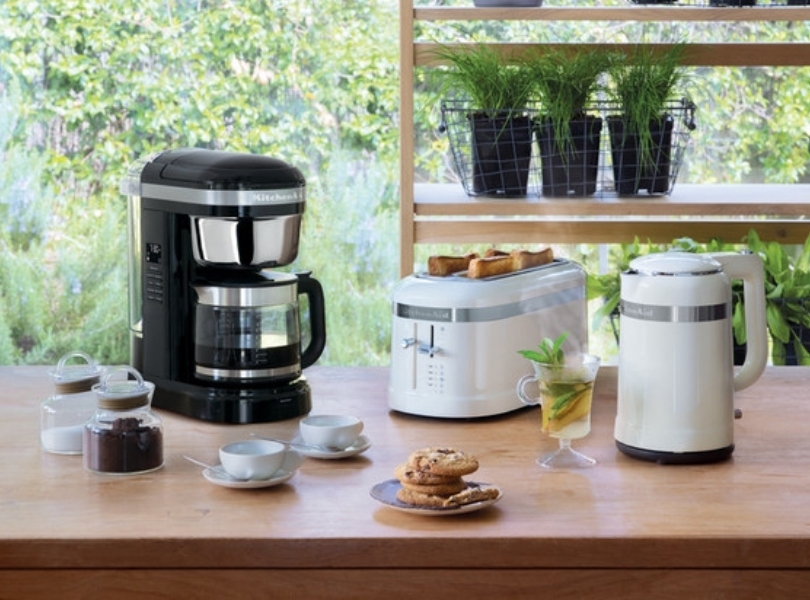 Is drip coffee better?
When you brew coffee with a drip method, you pour water over coffee grounds placed in a filter. You can either do this with a drip coffee machine or by pouring water by hand over a drip cone.
The advantage of the Drip coffee maker 1.7L is that it makes sure all the elements come together perfectly and the coffee beans are uniformly saturated. This means you can savour a well-balanced and full-bodied flavour every time.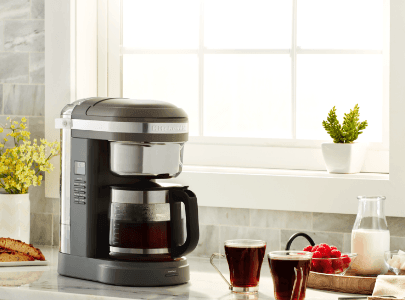 DRIP COFFEE MAKER 1.7L 5KCM1209
Our drip coffee maker reinvents the coffee experience at home. It's designed to make it easy for you to perfect the art of coffee with the best flavour and aroma. The filter coffee maker has a special 29-hole spiral showerhead which evenly saturates the coffee beans to deliver exceptional flavour, cup after cup. It's simple to use with a clear LCD-display and dosage ladder in the gold-tone permanent filter for guidance. With the brew strength selector, you can customise each brew to either regular or bold taste without having to navigate menus. The 1.7L glass carafe is designed to minimise drips and spills and the ergonomic handle allows for comfortable pouring. To suit your lifestyle with this sleek drip coffee maker, you can set two programs: for example one for weekdays and another for relaxing weekends. The 'pause and 'pour' feature means you can interrupt brewing at any time for a quick cup, and the warming plate will keep your coffee at either a low or high temperature in 10 minute increments of up to 40 minutes.
SPECIFICATIONS
TECHNICAL SPECIFICATIONS
Current (A)

4,8

Electrical connection rating (W)

1100

Voltage (V)

220-240

Frequency (Hz)

50/60

Height of the product

364

Width of the product

182

Depth of the product

340

Water capacity

1.7

Height of the packed product

437

Warming

Warming tray

Width of the packed product

249

Depth of the packed product

404

Net weight (kg)

3.3

Gross weight (kg)

4.4
| | |
| --- | --- |
| Price | €149.00 |
| Product Brand | KITCHENAID |
| Price View | Price Range |