K400 ARTISAN BLENDER 5KSB4026 MEDALLION SILVER
KitchenAid brand's expertly crafted 3-part blending system
5 speed dial including Pulse, 3 preset recipe programs and self-cleaning cycles
1.5 Peak* HP motor with intelli-speed
KitchenAid brand's expertly crafted 3-part blending system
5 speed dial including Pulse, 3 preset recipe programs and self-cleaning cycles
1.5 Peak* HP motor with intelli-speed
Blender designed for the perfect taste
Easily blend the toughest ingredients for smooth results and the perfect taste with our K400 blender. Passionate makers, get ready to create!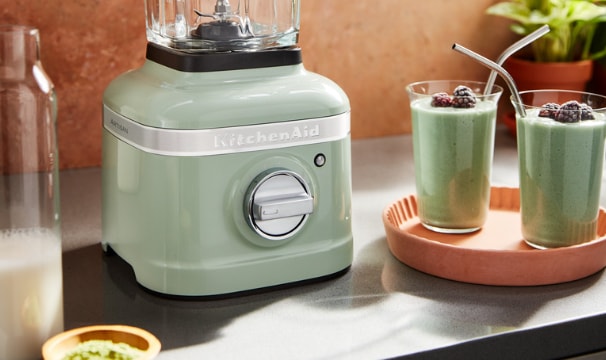 Colours to inspire you
Colour is in our DNA. We've created the K400 blender in gorgeous colours so you can match your style, home or stand mixer, from Ink Blue to Pebbled Palm and Cast Iron Black. Be unique or find kitchen colour ideas for inspiration.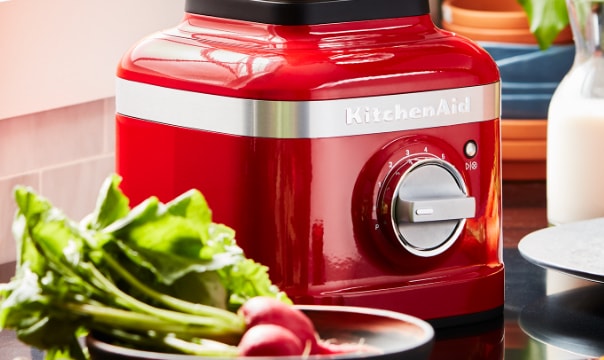 Stable metal construction
With a die-cast metal base and control knob, this blender is built to last. It's heavy, sturdy and ready for any recipes you may dream up. It feels reassuringly solid and comes with a 5-year warranty for peace of mind.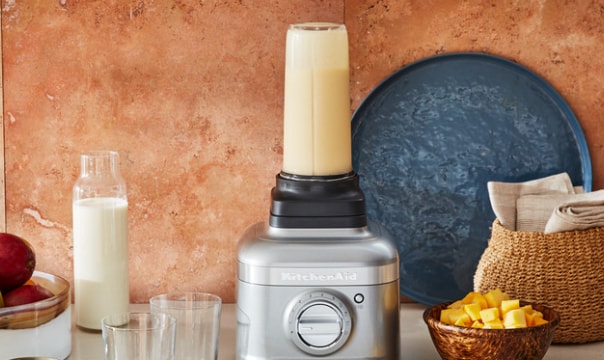 Open up possibilities
You can fit your lifestyle with optional K400 blender accessories for every need and routine (sold separately). Take a 500ml personal jar to work or the gym, store a small batch jar in the fridge or use the citrus press.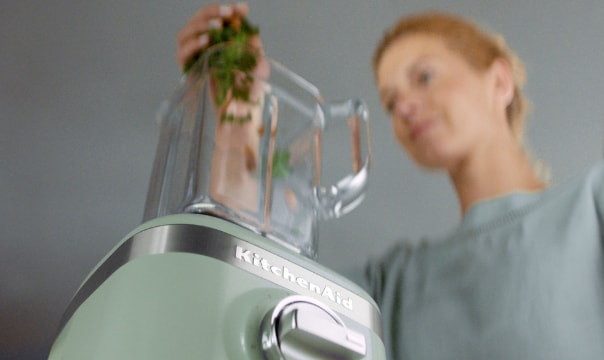 Tackle tough ingredients
Feel confident using tough ingredients like almonds, chia seeds, ice, ginger root or nutritious, fibrous and leafy vegetables. They'll be transformed into smooth, even textures resulting in perfectly balanced flavours. Delicious.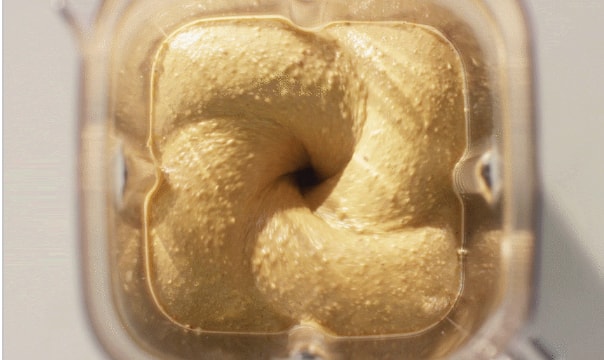 3-part blender system
Create smooth blends every time. Three aspects combine in our 3-part system: the unique asymmetric blade, ribbed jar and adaptive Intelli-Speed motor which senses the contents to maintain optimal speed.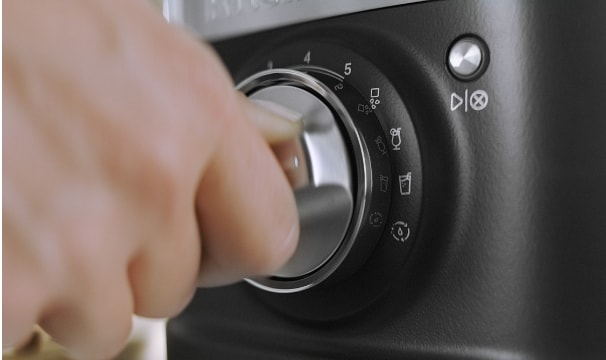 Feel in control
Achieve precisely the taste and texture you're imagining with the intuitive control dial. Turn it through 5 speeds, a pulse option and 3 useful preset programs: ice crush, icy drinks, smoothie - as well as a handy self-cleaning cycle.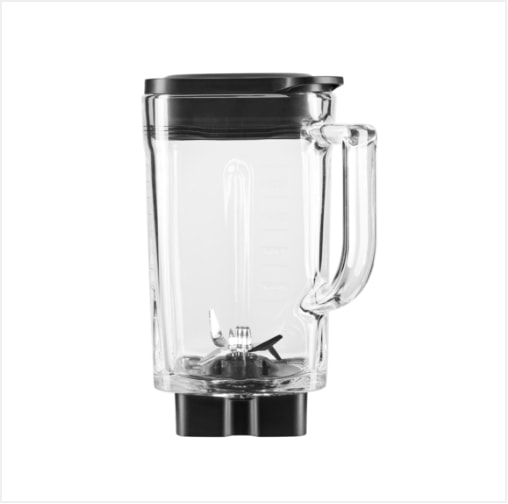 1.4L glass jar with asymmetric blade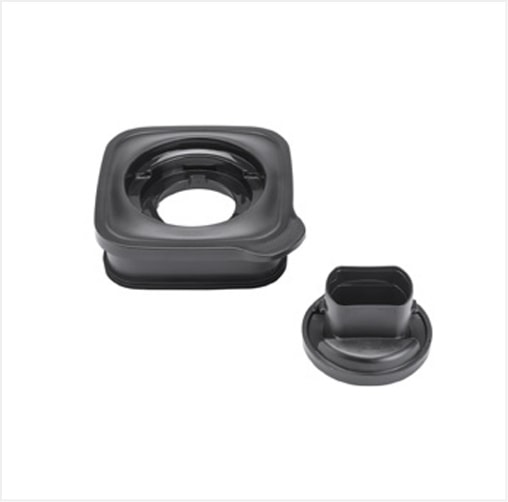 Securely-sealing lid with removable cap
When the going gets tough
Tough ingredients can be so good for your health, with their fibre, protein and nutrients.
This KitchenAid blender has been designed to tackle nuts, fine seeds, ginger root, dense fruits and leafy greens like kale, blending them down to the finest consistency for your creations.
This thorough blending performance gives you wonderfully even results, with a balanced taste in every sip or spoonful.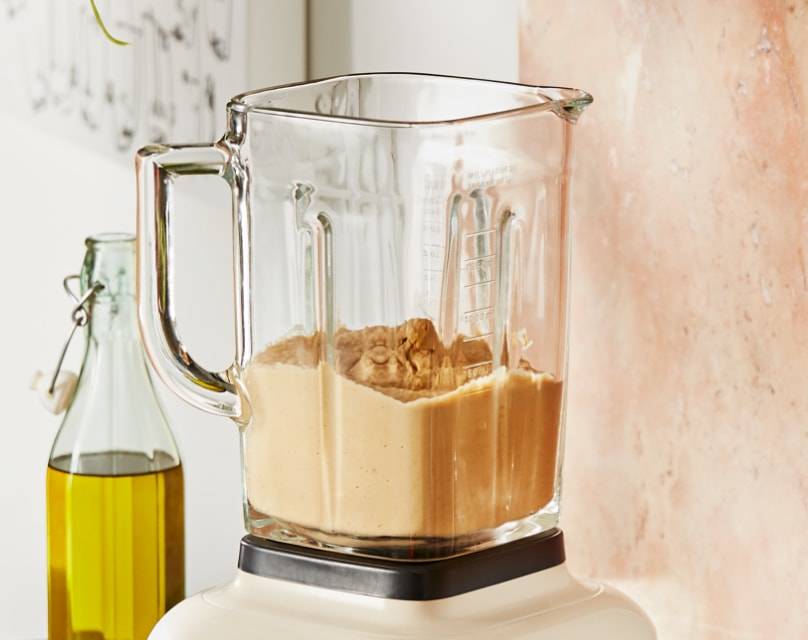 Packed with personality
Give a pop to your kitchen colours with a bright and rejuvenating new look. You can choose a stylish K400 blender to suit your style, home interiors or even your stand mixer of the same colour.
There are so many colour options to tempt you - from Pistachio to Medallion Silver - that you're sure to find the best food blender for you.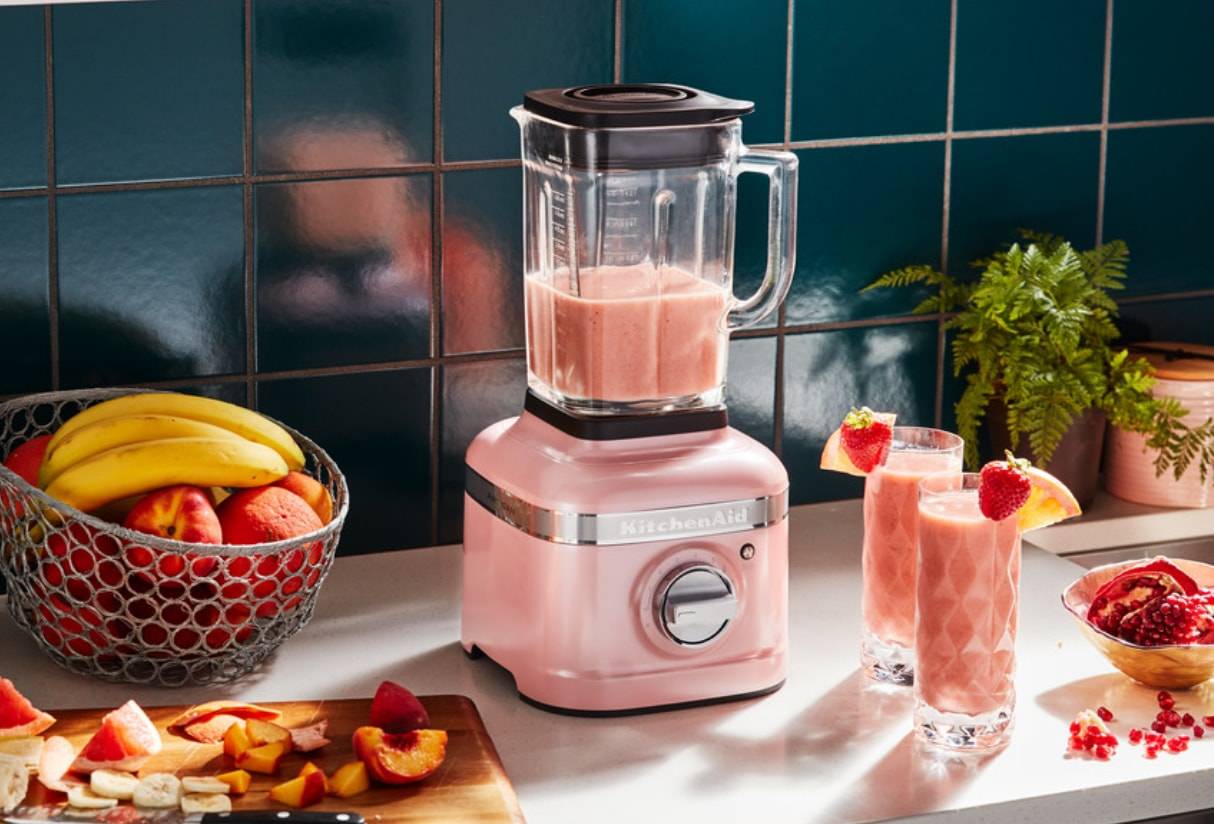 Less mess with your blender
Go wild and unleash your imagination without worrying about cleaning up. The K400 blender has a soft-start feature which begins the motor at a slower speed to fold in ingredients and then quickly increases to avoid splatter.
When you've finished, you can use the self-cleaning cycle. Simply fill your blender jar with some water and a drop of dish soap, then run the self-clean cycle. The jar and lid are also dishwasher-safe for your convenience.
Blend all day, every day
Reach for the sturdy K400 blender every day, as many times as you like - from green breakfast smoothies to soups, dips, nut butters and fine purees to serve with your evening meal.
It has a sturdy die-cast metal base, a die-cast metal knob and an expertly-crafted 3-part blending system. You can feel the quality and know that it will last for many years to come. So, which recipe will you try next?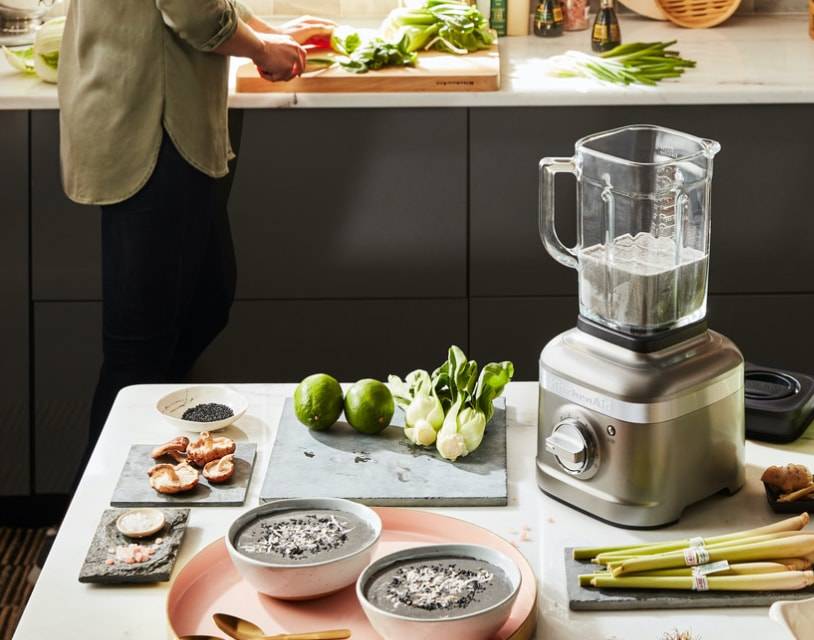 Suit your positive lifestyle
Do you love a zingy juice on-the-go? Or perhaps you take a spicy homemade soup to work for lunch? We've thought of all the ways you may want to use your blender and created an array of optional attachments (available separately).
Why not take a smoothie for your post-workout treat in a personal bottle, or keep a little mixture of fresh baby food or a mint dip in the fridge? See what works for you. 
| | |
| --- | --- |
| Price | €359.00 |
| Product Brand | KITCHENAID |
| Price View | Price Range |