MIXER TILT-HEAD 4.8L - ARTISAN PREMIUM 5KSM185PSBPP PEBBLE PALM KITCHENAID
Special Price
€738.00
was
€869.00
From mixing cake batter to whipping cream or kneading pasta dough, select your accessory and speed. The original planetary action gives you fast, thorough results.
This timeless mixer comes with stainless accessories and an extra 3L mixing bowl. You can wash them in the dishwasher, and wash the splatter guard by hand.
The multipurpose attachment hub allows you to add optional attachments (sold separately). From a spiralizer to a pasta roller or meat grinder, you can do more.
Stand mixer that's ready for anything
Discover possibilities with this iconic stand mixer, which helps make everything from cookies to carbonara. Which of the delicious colours will you choose?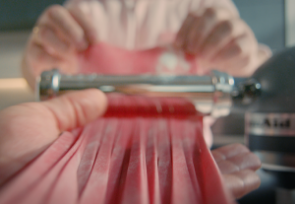 Ready for anything
Thinking about energy balls or a rainbow cake? Great! The mixer can do so much more too. With its included accessories, it allows you to knead dough for bread, pasta or pizza, whip cream and mash potato.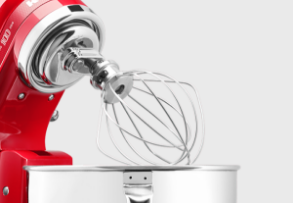 Stainless steel accessories
This timeless stand mixer comes with a stainless steel whisk, dough hook and flat beater. You can clean all these robust accessories in the dishwasher. The body of the mixer has a premium finish with food-safe enamel coating.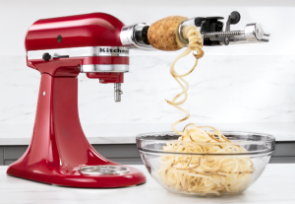 Enjoy optional attachments
A single multipurpose attachment hub is your key to a range of optional attachments. From a spiralizer to a pasta roller, ice cream maker or food grinder, expand the possibilities with professional-quality attachments.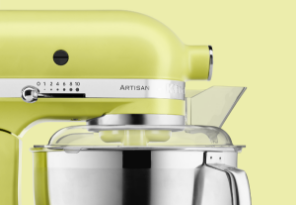 Colours to match your style
Colour is in our DNA. We love to bring you fresh, classic and contemporary choices to suit your personality and interiors – from Kyoto Glow to Pebbled Palm or Onyx Black. Explore the latest style trends for kitchen colour ideas or stand out with something unique.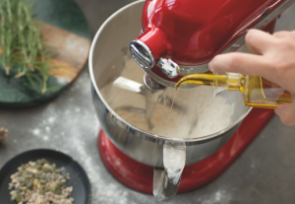 Performance mixed with efficiency
The KitchenAid mixer has a motor which is highly efficient at converting wattage into power in the bowl or attachments. Excellent performance and energy efficiency? Now that's the perfect mix.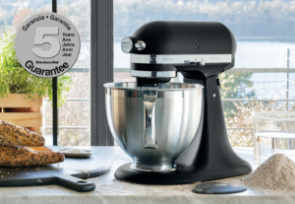 Strong enough to last
Built to last for generations, the KitchenAid stand mixer has a solid zinc metal construction. It feels reassuringly sturdy and stable enough for heavy mixtures. Enjoy the peace of mind of our 5-year guarantee.
Serve up style and personality
Be bold. Give a pop to your kitchen colours. You can choose a smooth, rounded tilt-head stand mixer that suits your interiors. There are so many options, you can find the best stand mixer for you. Or, why not go further and personalise it with an extra bowl and engraving of your words?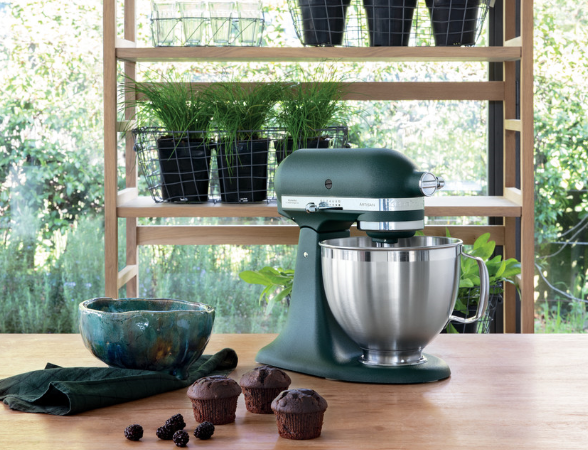 Planetary action for fast mixing
The KitchenAid stand mixer was the original home stand mixer to feature unique 'planetary action'. What does this mean? It allows the beater to spiral to at least 59 touchpoints around the bowl for fast and thorough mixing. Everything you throw in will be fully incorporated - nothing is missed!
Move the speed control lever, depending on what you're doing. Select speed 1 for a gentle stir up to 6 for beating and creaming and 10 for fast whipping.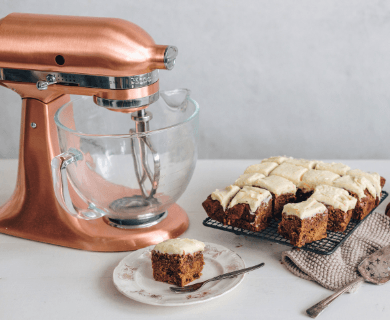 Popular tilt-head mixer
Great for keeping on the worktop, the tilt-head model is your friend in the kitchen. It's easy to tilt the head back to access the bowl. The stand mixer is a convenient size and ideal for both small and large batches. It includes two stainless steel bowls (4.8L and 3L) which both fix securely into the base.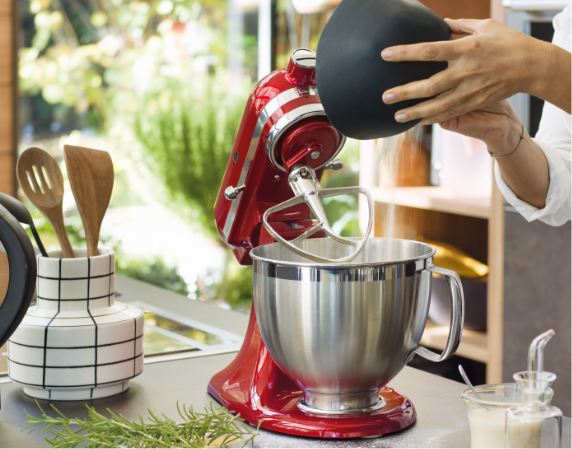 Beauty that lasts and lasts
Our KitchenAid stand mixers are built for passionate makers to enjoy every day. They're made from the toughest materials and can take any recipe you might throw at (or in) them.
Designed and assembled in the US, the stand mixers combine over 100 years of engineering expertise and a die-cast metal construction. They're solid and heavy and even the control knobs are made of metal. Which new recipe will you challenge yours with?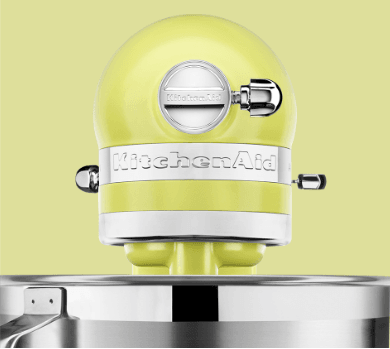 Stand mixer as strong as steel
Combining strength and beauty, the bowl and accessories of this Artisan 4.8L stand mixer are all made of stainless steel. Hygienic and easy to clean, the material is ideal for a busy kitchen. It's knock and scratch resistant so you can work it hard and still rely on it to look beautiful for many years to come. We think our stainless steel bowls are eternally stylish, giving a smart, clean look.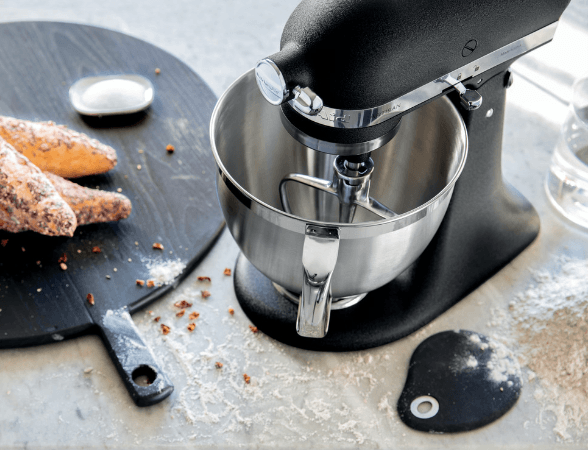 Juice, jam, jumbo sausages!
Plug optional extras into the multipurpose attachment hub and you're ready to expand your repertoire. Create any dish you've ever wanted to make - from hearty sausages or fettuccine to veggie noodles or fresh orange juice. 
Love jam? Give it a go with the fruit and vegetable strainer attachment. Just turned vegan? Make a veggie lasagna with the vegetable sheet cutter. All the power hub attachments fit every stand mixer model made since 1919.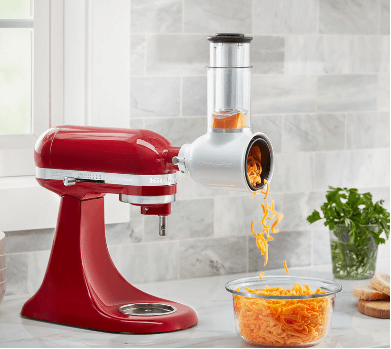 How much can you make?
In this Artisan 4.8L stand mixer, you can make small to large batches. As a guide to its maximum capacity, you're all set to process up to 12 eggs (medium), 1L of whipped cream, make a 2.7kg cake or 9 dozen cookies. That's plenty to go around when you're enjoying family time and entertaining friends. After all, more cookies = more smiles.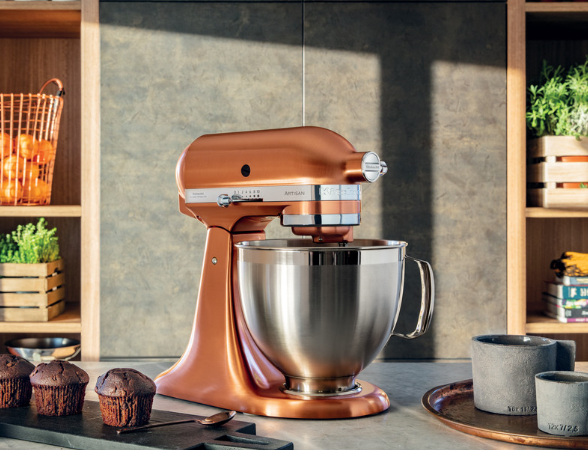 The tools for your adventures
Go further in the kitchen with a range of optional accessories – all powered by your mixer. Ice cream maker, food grinder and much more.
MIXER TILT-HEAD 4.8L - ARTISAN PREMIUM 5KSM185PS
Our 4.8L mixer is a solid and powerful, as well as versatile enough to unlock possibilities in your kitchen. You can quickly mix batters, make bread, whip up fluffy meringue and even mash potatoes with the included stainless steel accessories: whisk, flat beater and dough hook. Built to last for generations, it has a zinc metal construction and comes with a 5-year guarantee. The stand mixer has metal knobs and is coated with enamel in premium colours. It comes with 4.8L and 3L stainless steel bowls, to make it easier to work without having to wash up between ingredients. When you've finished, you can pop the bowls and accessories in the dishwasher and wipe over the body. An iconic design from KitchenAid that supports your culinary adventures. It can also power a range of optional accessories (sold separately by KitchenAid).
SPECIFICATIONS
TECHNICAL SPECIFICATIONS
Wattage (W)

300

Motor type

AC (Alternating current)

Horse power

0.19

Voltage (V)

220-240

Frequency (Hz)

50/60

Electrical connection rating (W)

300

Max. rotation speed (rpm)

220

Min. rotation speed (rpm)

58

Max Quantity of Flour (Kg)

1

One-touch burst speed

58

Body material

Zinc

Length of cable (cm)

145

Electrical speed control present

Yes

Product Height (mm)

360

Width of product (mm)

240

Depth of product (mm)

370

Packaging Height (mm)

413

Packaging Width (mm)

406

Packaging Depth (mm)

273

Net weight (kg)

11.1

Material of mixing bowl

Stainless steel

Gross weight (kg)

12.85

Pie crust: kg of flour

0.5

Max Quantity of Egg white

12

Max Quantity of Whipped Cream (L)

1

Max quantity of Cake (Kg)

2.7

Bread dough (stiff yeast dough = 55% Absorbtion ratio) 2

2

Max Quantity of Mashed Potatoi (kg)

3.2

Max quantity of Cookies (standard 5.1 cm - 2 inch cookie)

108

Plug type

Type B

Plug type

UK
| | |
| --- | --- |
| Price | €869.00 |
| Product Brand | KITCHENAID |
| Price View | Price Range |