ROWENTA POWERSTEAM VR8225
Special Price
€149.00
was
€239.00
Faster and easier ironing *
High pressure steam generator

Iron that combines fast and efficient results with practical functions

Removable 1.5 liter water tank for unlimited ironing sessions with maximum convenience

5.8 bar pressure for fast and efficient results

300 g / min steam boost to tackle the most stubborn creases and thick fabrics

Easy and safe transport via the locking system

Descaling cartridges to ensure reliable and long-lasting steam performance

Eco mode for reduced energy consumption, maintaining effective ironing results

MicroSteam400 high quality anti-scratch soleplate with excellent vapor diffusion and flawless gliding

Made in France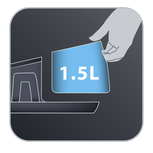 Removable water tank for maximum convenience
In addition to the perfect combination of performance and ease of use, this model offers the extraordinary convenience of a removable 1.5 liter water tank, for uninterrupted ironing and less frequent refilling.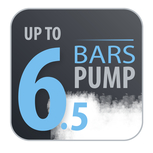 Ironing efficiency and reliable performance
The 6.5 bar pump pressure guarantees fast and effective results, with perfect and continuous steam delivery for all your ironing needs.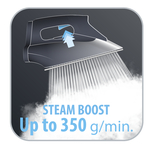 Powerful steam jet for difficult creases
The intense power of the 350g / minute steam jet eliminates wrinkles from thick fabrics and defeats even the most stubborn creases with absolute ease.
The Rowenta Powersteam VR8220 is a steam station economic that allows you to iron for several hours without requiring further tank filling. It offers an excellent quality-price ratio and allows a good saving in terms of time and money. Recommended for all those who have a large family, not only for its capacity, but above all for its energy saving mode and the possibility of using tap water without damaging the plate. It is among the best that can be found on the market, which despite the high quality and its particular functions, maintains a price accessible to all. Rowenta VR8220 has quite compact dimensions and is perfect for those who are looking for a quality instrument that does not take up much space in the house. The iron is positioned diagonally on the base,the base is equipped with comfortable non-slip feet and a cable winding system that avoids dangerous entanglements. Rowenta VR8220 is equipped with a safety support able to fix the iron to the base and prevent it from falling if accidentally bumped. A particular aspect of this model is the steam release: it is equipped with a pressure of 6.5 bar capable of delivering up to 120 g / min of steam, offering easy, smooth and effective ironing. There are two types of functions:5 bar capable of delivering up to 120 g / min of steam, offering easy, smooth and effective ironing. There are two types of functions:5 bar capable of delivering up to 120 g / min of steam, offering easy, smooth and effective ironing. There are two types of functions:
super-steam function: allows you to have a jet of steam up to 350 g / min, allowing us to iron even the most difficult creases in the best possible way.

vertical steam function: allows you to eliminate wrinkles from curtains, jackets, dresses and shirts by leaving them hanging directly on the hanger.

Tank and plate

The tank is quite large, capable of holding up to 1.5 liters and allows continuous ironing for over 2 hours. There is a cartridge anti-limescale system capable of filtering the water that turns into steam, however, we suggest mixing tap water with demineralized water, to prevent the iron from being damaged in the long run.
The power is 2200 watts, so it can be used in just 2 minutes after switching on. The plate is made of stainless steel, a resistant material that can slide easily on different types of fabric. Equipped with 400 holes from which the steam comes out, it ensures uniform distribution of the steam allowing easy and fast ironing, and allows a fluid and pleasant sliding on the garments. In addition, for the most difficult points there is a precision tip that will simplify the work (for example when you need to iron the space between buttons or collars).

Precision, safety and practicality

Rowenta Power Steam VR8220 has a system that allows you to secure the iron to the tank whenever it is not in use, in order to prevent the iron from being damaged or dangerous accidents. As for precision, the toe design is designed to be able to pass easily even between buttons or very tight seams, guaranteeing a high quality result. This model can also be used vertically and is also perfect for dresses, suits and shirts. Although the total weight is quite high (with an empty tank it reaches over 4 kg), the iron is still light and easy to handle. The temperature is adjusted by means of a common ring nut positioned directly on the iron.
As for maintenance, four anti-limescale filters are included in the package, very easy to replace thanks to the cartridge design. Convenience is paired with performance, with a pump pressure of 6.5 bar that guarantees efficient and fast results.

FEATURES

High quality soleplate

 : vapor diffusion and smoothness at the highest levels.

Simple and safe transport

 : the locking system allows you to transport and store the iron easily and safely.

Convenient Ultra-Compact Design

 : 

Ultra

 -compact, easy-to-store construction that takes up less space than an A4 sheet.

Energy Saving

 : Equipped with a high performance eco mode that saves 15% more energy than the maximum setting.

Easy maintenance

 : the cartridge system facilitates descaling maintenance for long-lasting performance and filters 100% of the water in the tank to ensure maximum purity of the steam delivered.

Precision tip

 : Extraordinary precision thanks to the special tip designed to reach the tightest and most difficult points, such as edges, seams and collars.

Prolonged

 ironing: the 1.5-liter high-capacity water tank allows you to work up to 1.5 hours in eco mode, for easier and longer ironing.



| | |
| --- | --- |
| Price | €239.00 |
| Product Brand | ROWENTA |
| Price View | Price Range |